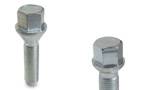 Wheel bolts for aluminum alloy wheels
FORMA-TECH manufactures conical and spherical bolts for the mounting of wheels in aluminum alloys of various lengths. A large warehouse of parts in various sizes allow for a rapid delivery.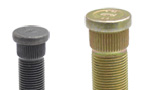 Knurled wheel studs
We produce knurled studs with diameters between M8 and M22 in the classes 8.8 and 10.9.The knurled collar of the stud is inserted with pressure and remains fixed during the mounting and extraction of the wheel.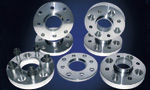 Sector utilized: automotive
Almost all of FORMA-TECH's products are utilized in the automotive industry (for example, wheel bolts and nuts for the mounting of aluminum alloy wheels).